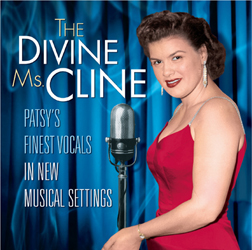 Many fans of Jim Reeves are also fans of Patsy's. In real life, the two performers often worked together, not only on the Friday Night Frolics and the

Grand Ole Opry

, but also military recruiting radio shows and out on the road. Patsy even guested for a week on Jim's ABN network radio show (the tapes for which are still lost). Jim and Patsy highly respected each other as individuals and as artists, and could sometimes be found at Tootsie's Orchid Lounge in Nashville between

Opry

shows, sharing a pitcher of beer with their friends. Patsy even flew on one of Jim's chartered planes with him and the Blue Boys to play some dates in the South. This new CD,

"THE DIVINE MS. CLINE,"

is an import from the UK. It was produced by Larry Jordan (who did all the VM music), and is simply spectacular. Billboard magazine calls it "stunning." It features 20 new overdubs of Patsy studio tracks, plus 6 unreleased live, "in concert" recordings. Cline's original recordings were stripped down, her voice remastered for better clarity, and then tasteful new instrumentation added (including by current members of the Grand Ole Opry band!) to give these songs a fresh sound. Fans are raving about this new CD!

To hear audio samples and order the CD,

CLICK HERE

.