What's News About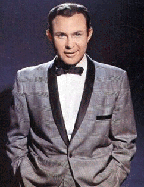 (This is a page you'll want to visit often for updates on matters pertaining to Jim Reeves. Be sure to email me if you have information you think we should know about! Write me here).

---
(NO NEWS AT THIS TIME)

---
Email us HERE.
HOME
©All contents copyright 1998 to 2010 by Julie Campbell-Jordan. All worldwide rights reserved. Photos and text may be downloaded from this site for personal use ONLY. All photographs used with exclusive permission of their owners, with signed affadavits on file (at the law offices of Wallentine, O'Toole in Omaha, Nebraska) attesting to this fact. Any re-use of photos/text is strictly prohibited and will constitute violation of copyright, with violators prosecuted to the fullest extent of the law. All performances licensed by Broadcast Music Incorporated (BMI) and used with permission.