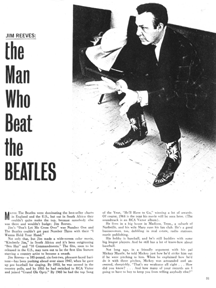 (The following article appeared in a British magazine shortly before Jim died in 1964. It gives a good overview of biographical information).
Maybe the Beatles were dominating the best-seller charts in England and the U.S., but out in South Africa they couldn't quite make the top, because somebody else was there and wouldn't budge: Jim Reeves.
Jim's "Don't Let Me Cross Over" was Number One and the Beatles couldn't get past Number 3 with their "I Wanna Hold Your Hand."
Not only that, but Jim made a wide-screen color movie, "Kimberly Jim," in South Africa and it's been outgrossing "Ben Hur" and the "Ten Commandments." The film, soon to be released in the U.S., may turn out to be the first film feature starring a country artist to become a smash.
Jim Reeves -- a 185-pound, six-foot-two, pleasant-faced baritone -- has been pushing ahead ever since 1947, when he gave up pro baseball for singing. By 1953, he was second in the country polls, and by 1955 he had switched to RCA Victor and joined the "Grand Ole Opry." By 1960 he had the top Song of the Year, "He'll Have to Go," winning a lot of awards. Of course, 1964 is the year his movie will be see here. (The soundtrack is an RCA Victor album).
He lives in a big house in Madison, Tenn., a suburb of Nashville, and his wife Mary runs his fan club. He's a good businessman, too, dabbling in real estate, radio stations, music publishing.
His hobby is baseball, and he's still buddies with some big league players. And he still has a lot of know-how about baseball.
Not long ago, in a friendly argument with his pal Mickey Mantle, he told Mickey just how he'd strike him out if he were pitching to him. When he explained how he'd do it with three pitches, Mickey was astounded and answered sheepishly, "That's my weakness all right...How did you know?...And how many of your records am I going to have to buy to keep you from telling anybody else?"
It is a fact that many trite and somwhat musty truths that pertain to the life stories of most Country and Western artists also apply to RCA Victor's Jim Reeves.
He will readily admit that he traded a bushel of pears for his first guitar. The tag that adorns the equipment of his traveling cohorts reads the same for him, "the goin'est guy in town." Like so many others, he has toured the United States (including exotic Hawaii and the sun-kissed, ice-rimmed Alaska); but unlike many artists, he has become a world-traveler, and he has worn his fan-gifted title "Gentleman Jim" well on his trips to such countries as England, Germany and Africa.
In England, particularly, Jim has emerged as a formidable challenge to the Beatles. In manner he is quite different from the brash outspoken foursome, but in talent he is very much their equal. Jim's newest release, "I Love You Because," has been on the British charts for weeks in the enviable Top Ten position and at this writing is just one notch below the Beatles' "Can't Buy Me Love."
What makes his poll popularity even more impressive is the fact that Jim is the only Country star to appear on a chart dotted with pop and rock singers! And he is a single singer competing with predominantly group sounds!
The Beatles may find it difficult to cope with this resistance from a contrasting musical field, especially since Jim boosted his popularity even higher on a recent tour of England. He was received warmly everywhere he appeared and was hailed as an ambassador of Country and Western music throughout Europe. His album "The International Jim Reeves" is a delightfully warm collection of songs of the Universe he has walked, meeting its people with his inspiring philosophy, "A stranger to me is just a friend I haven't met."
That this bit of potent philosophy has become a personal creed for Jim Reeves is a profound conviction of ours after watching him devote as much time and attention to the unknown fan as to the great and near-great of the music world. At a recent gathering, I, along with some other powerful personalities in the business, waited in line while the gentle, soft-spoken Jim Reeves patiently and interestedly visited a deejay, and two obviously almost poverty-striken fans from one of the tiniest towns in the country. But we waited with gratitude, and somewhat in awe of this quiet Texan who believes that his greatest heritage is to walk among all the men of the earth, and be concerned with their welfare, their happiness, their faith, and their friendship.
How did Jim Reevs arrive? What is his background? Why is he the poised and polished singer of songs who is so loved by his followers that he has been urged to become a candidate for Governor or U.S. Senator from his adopted state of Tennessee? He is a balladeer -- a wandering minstrel with roots so deeply imbedded in his love of music, home and family, that it is his life. He is grateful that he has been practically drafted to enter governmental affairs, but Jim Reeves, of Panola County, in east Texas, has no desire to enter politics.
He once placed his love of music in a secondary role, because Jim was a top athelete in Carthage, Texas, and wanted to become a legend in athletics at the University of Texas. It was his guitar that had helped earn the money, from junior high school days, for him to go to college, and it was his guitar that came to his rescue when a leg injury cut short a phenomenal baseball career at the University of Texas that had brought him a contract with the St. Louis Cadinals. He was not moved to self-pity when fate had ruled out athletics but turned his full attention to music instead.
So his first step up this well-planned, but not so well-marked way to song success was to get a job as a disc jockey. From disc jockey to singer was not easy. There were many years at the turntables. There were hopes and dreams and prayers for a chance, just a chance, to use his beautifully resonant voice to record for a major label. Finally, the then-unknown Abbott Records gave him the opportunity to make a record and that record was the beginning of the legend that is Jim Reeves. The name of it was "Mexican Joe" and it bounced all over the charts in every part of the nation.
It was difficult for Jim to realize that his name was on the lips of hundreds of thousands of people; it was surprising to have requests for personal appearances pouring in -- but Jim Reeves had been disappointed before, and he walked the cautious path. He accepted nearby personals when he had a day or night off from work. Then came "Bimbo," and Jim asked for a leave of absence and tried a nationwide tour.
This tour was the turning point. The turntable was left behind, and there followed, for Jim Reeves, a wonderful world of song and travel and abounding friendships. Literally thousands of people in the far-off city of Johannesburg, South Africa, loved Jim Reeves so much that it was chosen for the setting for the feature film, "Kimberly Jim," with Jim the star, and his favored Blue Boys as a part of the act. He was asked by the United States Information Service of Nairobi, Kenya, East Africa, to serve as Government Representative and Goodwill Ambassador to the Kenya Independence Celebration.
Reeves is a good businessman. With Joyce Gray as his astute secretary, he stands at the helm of such publishing firms as Tuckaho, Open Road, and Acclaim Music. His own Shannon Record firm has joined the booming Jim Reeves Enterprises, as has a lucrative Texas radio station. Business interests have not detracted from Jim's initial love of singing, however. While "I Love You Because" vies with Beatle hits in England, he has another winner, "Welcome To my World," on the American charts, closely followed by "Love Is No Excuse," a duet with Dottie West.
But neither wealth nor fame will change the greatness that is Jim Reeves. He is living proof that you can be what you want to be wherever you are -- and Jim wants to be like the humble folk he has come to know everywhere -- warm, generous, understanding, dignified and gentle.
A man who is courageous, who knows how good a cup of water can taste, how high a prayer can go, and how sweet a song can sound: This is Jim Reeves!
HOME
©All contents copyright 1998 by Julie Campbell. All worldwide rights reserved. Photos and text may be downloaded from this site for personal use ONLY. All photographs used with exclusive permission of their owners, with signed affadavits on file (at the law offices of Wallentine, O'Toole in Omaha, Nebraska) attesting to this fact. Any re-use of photos/text is strictly prohibited and will constitute violation of copyright, with violators prosecuted to the fullest extent of the law.